Curriculum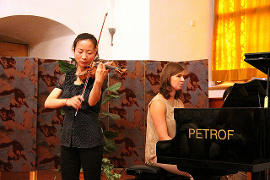 The Instrumental Master Class in Litomyšl offers one of the most intensive master classes anywhere, with students receiving one-on-one lessons with their teacher, plus four master classes. During the first two weeks of the master class, each participant will receive:

Six individual lessons of 60 minutes duration for each lesson and the opportunity to participate in 4 open master classes with Profs. Milan Vitek and Per Enoksson.
The participants are expected to attend a minimum of two of their fellow students´ individual lessons each week in order to learn through listening and observing. An opening concert will take place in Litomyšl castle at the end of the first week, with performers selected by the faculty. During the third week, lessons will be given in an open classroom setting as dress rehearsals for the final public concerts with all participants present. The final week of the master class will feature public concerts every day, with each of the individual participants performing at least one of the pieces that they have studied during the master class.
Active participants will study instrumental repertoire of their own choice. Participants are required to bring the piano parts and orchestral scores to all the pieces they intend to study. Students are expected to arrive with their entire repertoire fully prepared.

Daily Schedule Monday – Saturday, Weeks 1 - 2
Instrumental lessons between 9:00 - 12:00 a.m. and 3.00 - 6:00 p.m.

Two master classes will be given by each faculty member on select evenings evening during the first two weeks of the Master class.

Daily Schedule Monday – Saturday, Week 3
Open dress rehearsals 10:00 a.m.– 1:00 p.m. Departure for concerts is at approx. 4:00 p.m.
Transportation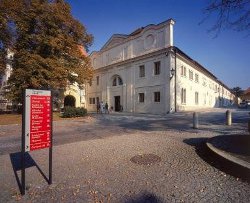 Participants are strongly advised to plan their arrival at Prague Airport on Sunday, July 28, by 3:00 p.m. A bus chartered by the Litomyšl International String Master Class will depart from the airport for Litomyšl once everyone scheduled to arrive by 3:00 p.m. is on board. The return trip to Prague Airport will likewise be by chartered bus, departing Litomyšl early in the morning on Sunday, August 18.
Fees
• 1,500 Euro for active participants when registering by February 28
• 1,700 Euro for active participants when registering by April 30
• 750 Euro for passive participants registering by April 30

Fees include: Lessons, rehearsal time with the accompanist and bus transport. Passive participant fees include observation of lessons and bus transport. Once paid, all fees are non-refundable. Students are encouraged to take out a travel cancellation insurance policy immediately upon registering in order to obtain a refund if illness or other circumstances prohibit them from participating in the Master Class after they have signed up.

Click here for information about housing and meals.
Online Application Procedure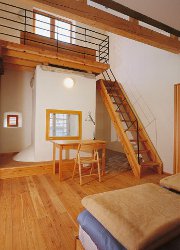 Applicants must submit the following materials using the online application form. A filled-out application form (please read the instructions on the application form webpage carefully first).

A 50 Euro non-refundable application fee is due upon completing the registration form, made using a credit card through the secure Paypal website. Please note that your application submission will not be complete until this payment is confirmed.

Students may change the repertoire submitted online by sending an email to the Communications Director no later than one month prior to the start of the master class. After this time, study repertoire changes will not be permitted.

A recent video recording of approx. 15 min. playing time must be posted on YouTube (privacy settings are an option) with the link(s) entered on the online application form. Students who have played recently for either Profs. Vitek or Enoksson may obtain a waiver of this requirement by emailing a request to This e-mail address is being protected from spambots. You need JavaScript enabled to view it .

A letter of recommendation from the applicant's primary teacher, submitted as a MS Word or PDF document. Students who have played recently for either Profs. Vitek or Enoksson do not need to submit a letter of recommendation.

All applicants must submit a biography outlining studies, achievements and a repertoire list, submitted as a MS Word or PDF format through the application form.

Successful applicants will be notified in writing by email.
Application Deadlines
All prospective students and passive participants must submit a fully completed online application form and other materials no later than February 28 to receive the early registration discount, or by April 30, 2013.

Applicants are encouraged to apply early, as qualified students are admitted on a first-come first-serve basis. Single and double rooms, of which there is a limited amount available, will likewise be assigned on a first-come first-serve basis.

Applicants must remit a tuition deposit of 500 Euro by within a week of receiving their notification of acceptance. Final payment of all remaining fees is due June 1.

Applicants must remit a tuition deposit of 500 Euro within a week of receiving their notification of acceptance. Final payment of all remaining fees is due June 1.

Applicants will be notified by email of their acceptance status within two weeks after the deadlines.

All payments are non-refundable and must be transferred in Euro net of bank fees either to: either to:

String Master Class Milan Vitek
Acct. No. 194659937 - Bank Code: 0300
Bank Name:
CSOB a.s.
http://www.csob.cz
Havlickova 1118
57001 Litomyšl
Czech Republic
SWIFT CODE CEKOCZPP
IBAN: CZ67 0300 0000 0001 9465 9937

If your bank deducts transfer fees, you will be informed about the balance of your payment. In order not to incur additional transfer fees, you can pay the difference between the transfer and the full fee in cash (Euros), payable at the Master Class office, upon arrival in Litomysl.

Students wishing to avoid multiple bank transfer fees may remit the entire tuition fee amount by the deposit deadlines.

Students who do not meet payment deadlines may lose their place as participants in the class. It is recommended that applicants take out travel insurance covering their fees in case illness or injury prevents them from participating in the master class after their fees have been paid.

Direct all Inquiries to Communications Director Tomas Vitek at: This e-mail address is being protected from spambots. You need JavaScript enabled to view it